Nancy Marroquin, Co-Pastor
Nancy and her husband, Jim, began DSPC in August 2005 and have loved just about every minute since then making new friends and growing closer to Christ together. Nancy and Jim have a son and a daughter: James, married to Robbin and Elizabeth, married to Sean. They have five awesome grandkids who Nancy loves hanging out with as much as possible. Another passion is riding horses—she even used to do some barrel racing back in the day! She can often be found laughing, walking, traveling and eating with friends. She always has a few good books going. Contact Nancy at nancym@dspres.org
Jim Marroquin, Pastor of Spiritual Formation
Jim and his wife Nancy began DSPC in August 2005. He enjoys and loves the fantastic people of Dripping Springs! Jim is the Pastor of Spiritual Formation at DSPC and has a passion for encouraging people to grow closer to Christ. Jim and Nancy have a son and a daughter: James who is married to Robbin. They have two sons. Elizabeth is married to Sean. They have four children. Jim enjoys spending time with Nancy, his children and grandchildren as well as running, ranching, horses, reading and being with friends. His other interests include teaching financial management, serving on community boards, building, and being a worship musician. jimm@dspres.org
Mitch has been part of the DSPC community since May 2009. He has a passion for worship, youth and mission. Seeing the people of God from the very youngest to the oldest come together to love, serve, and glorify God as one body is what gets him motivated to give his whole heart to serving God as Pastor at DSPC. When he's not singing, preaching, or serving, he's watching Netflix, listening to a wide variety of musical tastes and relaxing with his friends and family. He and his wife Taylor have three kids, David, Charlotte, and Emily, who can often be found on their Daddy's hip! Contact Mitch at mitchk@dspres.org
Amy Myhand, Family Ministries Pastor
Amy joined the DSPC staff in 2016. She serves as Pastor of Family Ministries and works to implement a cradle-to-college strategy that meets kids where they are in life and faith. Believing every phase of a kid's life reminds us they're fearfully and wonderfully made, she's driven to engage kids not just to know the story of God, but to fall in love with the God of the story. She's previously served other churches in Children's Ministry and Church Marketing and Communications as well as being a full time mom for over a decade. She and her husband Shayne keep busy raising their three school age children. She believes in the power of families, the impact of the local church and the goodness of Sonic Happy Hour. Contact Amy at amym@dspres.org
James Timmins, Worship Leader
James and his wife Kelly Ann joined DSPC in the Spring of 2018. He has been leading worship for churches in the Austin area for most of the last 18 years. In addition to serving at the church, James works full-time for a local company that designs and installs audio, video, and lighting systems for churches. He and Kelly Ann love spending time with their family including their son Sam, daughter Lucy, their dog Hazel and their kitties Smudge and Honey. James has a passion for seeing people grow deeper in a real relationship with Jesus and seeing the people and church let go of "junk" that gets in the way of encountering God. You can connect with him at jamestimmins@icloud.com.
Pete Hayes, Worship Leader
Pete has loved being part of worship leadership at DSPC since 2008. In his day job, he runs a national management consulting practice. He has a passion for faith in the marketplace and is a long standing member of the C12 Group that builds businesses for a greater purpose. Pete has penned hundreds of contemporary Christian songs, some of which are available via popular streaming sites. He's a voting member of the Grammys. When he's not working or worshipping, he and wife Cindy are spending time with their 5 grand kids or sailing. Contact him at pete@chiefoutsiders.com

Dee Bynum, Office Manager
Dee has been part of the DSPC family since 2011, managing the church office, human resources and finances. Her favorite part of any day is greeting everyone who calls or comes in our doors. She is married to the love of her life, Doug, and between them have three grown kids, embracing the adage "blended can be beautiful!" Dee and Doug serve in many areas at DSPC, not because they feel obligated, but because they know how Christ through the local church finally found and saved them and their family. Dee's passion is music "lyrics are everything!" and blesses the DSPC community by singing in the 9:30 worship service. Contact Dee at dees@dspres.org
Kelly Ann Timmins, Communications
Kelly Ann loves writing, creating art, teaching, thrift shopping, singing, and speaking Spanish. She loves to encourage others and make people smile. She is married to James, and together they have served as church planters and worship leaders since 2001. She is learning that Jesus is better than her wildest dreams. They have two awesome kids, a spoiled dog, and two kittens. When she's not editing and keeping everyone in the loop, Kelly Ann is likely somewhere enjoying too much coffee or rearranging furniture. Contact Kelly Ann at kellyannt@dspres.org.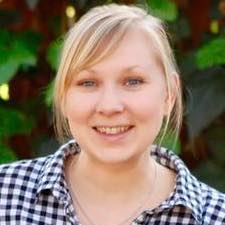 Taylor Kolls, Family Ministries

Taylor is the wife of Pastor Mitch and together they have 3 beautiful children, David, Charlotte, and Emily. Since the birth of their third child, Taylor has put her 10 year teaching career on hold and is enjoying being home with the girls and helping Amy with the children's and family ministries. Her passions include: family, friends, teaching, and the special needs ministry-Bridge Buddies. She also enjoys making cards, playing games, and cooking with her instant pot! She loves being part of the staff at DSPC, and being involved with small groups. Contact Taylor at ltkolls@gmail.com.
Amy McGovern, Childcare Coordinator
We are lucky to have Amy love on the littles here at DSPC on Sunday mornings. She is a registrar for Kiker Elementary in AISD and has been here for 20 years. Amy has three children. Her oldest daughter is a 2nd grade teacher, her son works for a document delivery company, and her youngest daughter is a social worker. She has a 5 year old grandson that is the light of her life! She loves to read and craft in her spare time. Contact Amy at amy.mcgovern@austinisd.org.
2019 Church Officers
Our elders and deacons offer leadership, wisdom, shepherding, and direction
to our church and how we remain true to our beliefs.
Elders
Jamie Baldwin
Brian Bobb
Diane Cross
Jaclyn Harris
Janet Herman
Andy Hutton
Mary Ellen King
Rich Klassen
Bruce Broslat
Susan McManus
Shayne Myhand
Randy Tyler
YOUTH ELDER
Kiara Bobb
Deacons
Rose Broslat
Cathie Capps
Mary Pat Braunstein
Cherly DeGroot
Manny Espinosa
John Griffin
Sandy Grome
Carla Guild
Greg Moon
Chris Millette
Bob Morris
Mary Beth Pinkerton